Sometimes deciding on what to get kids can be hard. There are so many choices, and it's difficult to know where to begin. We've made a list of suggestions to help make it a little easier! Whether you go with something in this blog, or it leads you to the perfect toy, we hope the lists ease the decision making a little. We've sorted our staff recommendations by age, as well as other interesting interest, and there's even a list for mum & dad! Don't forget we're also always happy to help, whether you're visiting us instore, calling us on the phone, or messaging us on Social media.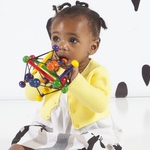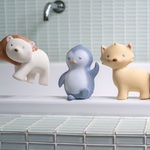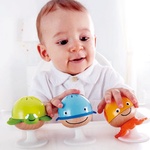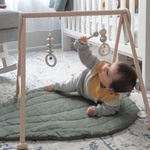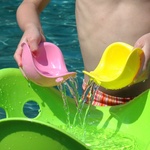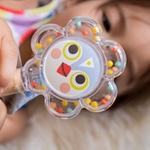 AGE: 0 - 12 Months
1. The Skwish! This amazing toy engages babies, with 4 colour options. The Skwish Classic, the pastel Colourburst, Natural Skwish, & Artful Skwish! 0+ months
2. The Tikiri range of natural rubber animals are rattles, teething toys, & bath toys all in one! Find the perfect animals for your little one! 0+ months
3. These bright & colourful toys suction onto flat surfaces! The Hape Stay Put Rattles comes with 3 cute sea creatures. 0+ months
4. HESS Baby Play Gyms offer a wonderful space for babies to engage, play, & grow! Choose from the Natural, Natural & Blue, or Natural & Pink! 0+ months
5. Bilibo Mini pack of 6 offers plenty of open-ended fun! They can go in water, scoop sand, stack together, & much more! 0+ months
6. How cute is the Djeco Flower Rattle? It's easy for little hands to grasp. 3+ months
7. Capture attention with the Janod Rainstick! This rattle creates a calming sound as it is turned, with colourful beads spiraling down. 6+ months
8. Lilliputiens Set of 4 Farm Shapes are a soft sensory set with lots of textures, rattling, & crinkling fun! 6+ months
9. Babies can explore sight, sound, & feel with the Plan toys Sensory Tumbling set! 6+ months
10. The HABA clutching Toy Triangle creates a fun noise as the 2 pieces move against each other! 6+ months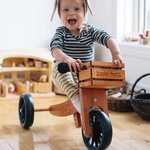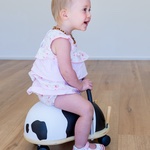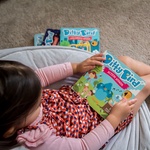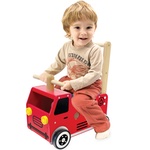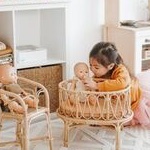 AGE: 1 - 2 Years
1. Kinderfeets Tiny Tot 2 in 1 balance bikes build confidence & balance in little ones beginning to move & explore! Convert from 3 wheels to 2 as they grow, with an adjustable seat. There is Bamboo, Cherry Red, Coral, & Sage! 1-2 years (or children up to 18kg)
2. Kids can strengthen their legs with the fun Small Wheely Bugs! Choose from the Small Bee, Small Cow, Small Ladybug, Small Panda, Small Pig, & Small Tiger! 1-3 years (or children up to 25kg)
3. The delightful Brio Firefly is a fun friend for tofflers as they learn to walk & explore! 12+ months
4. Djeco Bigabasic Puzzle is a fun & colourful introduction to size! 12+ months
5. If you're after fun play companion for nurturing play, the Miniland 38cm doll range is a collection of anatomically correct & diverse dolls (that smell like vanilla!) This incredible range has a doll for everybody, with an ever-expanding range! 18+ months
6. The Plan Toys Solid Drum Natural is a well-loved musical toy! The drum makes interesting sounds that captivates little ones! 18+ months
7. Ditty Bird Board Books are filled with fun and entertaining songs, from nursery rhymes, to animal noises, to songs to get kids moving & dancing! 12+ months
8. I'm Toy Walk and Rides with shape sorters are incredible fun, supporting leg strength, walking, coordination, and much more. The range includes the popular Fire Engine Sorter, Ice Cream Truck Sorter, Bunny Sorter, and Cow Sorter!
9. Cuddle up with the delightful Bonikka Dolls! This wide collection of soft and sweet dolls are perfect for comfort & play. Suitable for all ages.! 0+ months
10. Looking for a playtime classic that will last? The Poppie Cribs & Day Beds are cosy pieces of doll furniture with handcrafted rattan frames! Choose from a range of beautiful mattress colours! The Cribs fit dolls up to 38cm high, while Day Beds fit dolls up to 45cm! 12+ months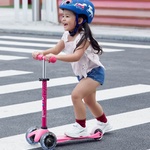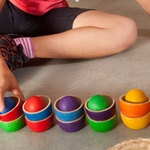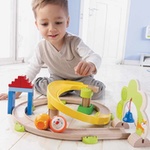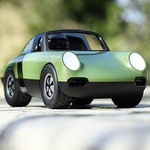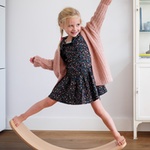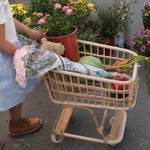 AGE: 2-3
1. Get little ones outside & exploring with the 3-wheeled Mini Micro Deluxe! Explore the range of colours, including the Aqua, Red, Eco Deep Green, Pink, & Limited Edition Lavender. If you're after an even more exciting scooter, there are Mini Micro Deluxe LED, with light up wheels, including the Limited Edition Navy! (XS & S Helmets available!) 2-5 years
2. Grab a TRYBIKE Steel 2 in 1 and start moving! These steel ride-ons convert from balance trike to balance bike to grow with your little one! There are 6 amazing colour options available. 15 months - 5/6 years
3. Stack, sort & explore with the open-ended Grapat Bowls and Balls! This wooden set is great for engaging activity play. 18+ months
4. Add some educational fun under the tree with the Beleduc Sorting Sets! These wooden sets help support cognitive development through play! There are three sets available - Environments, Our Home, & Seasons. 2+ years
5. Looking for a ball run for younger children? The Haba Rollerby Spiral Track & Klingeling Track are exciting fun safe for 2 years & older! 2-8 years
6. Know a little car lover? Whether it's the stylish Luft, or the speedy Verve Turbo, there's plenty of cool options in the Playforever range! There are durable cars for ages 1+ years & 3+ years.
7. Balance boards are an exciting and truly open-ended toy! Whether it's imaginative play or exercise, they are perfect for everyone, from toddlers to adults! The Kinderboard range comes in a range of colour washes including Rose, Mustard, Whitwash, Chalkboard, Rainbow, & Sage! The Wobbel range has many options, with a layer of colourful felt on the base to add more texture & protect floors! Check out the Foliage Green & Mouse Grey!
8. Interact with the world more with the Poppie Shopper, a handcrafted & durable rattan shopping trolley with castor wheels! Take it to the shops & markets, or add it to pretend play! 2+ years
9. Kids love the intriguing Sound Peg Puzzles from Melissa & Doug! There are a wide variety, including Zoo Animals, Vehicles, Around The House, Fire Station, & Musical Intruments! 2+ years
10. Watch the colourful cars roll down the Everearth Ramp Racer! This fun toy comes with 4 cars, with replacement car packs also available! 18+ months