We're all aware that living sustainably is difficult. Plastic is so convenient. Everything is wrapped in plastic these days. Many of the toys available today contain toxic chemicals like PVC and BPA. Toys that are not made from natural materials like wood can be unsustainable and they take up too much space and need constant care.
The good news is – there are ways for families to minimise their plastic consumption by moving towards eco-friendly, educational toys.
Eco-friendly wooden products are a key priority for most eco-conscious consumers who want their kids to learn that there is an alternative way to play without harming the environment. For example, companies such as Everearth plant trees for each product they produce so that they can show their commitment to protecting the environment.
Check out our list of the 10 best eco-friendly educational toys for your toddlers:
1.EverEarth - Alphabet Block Set 26pc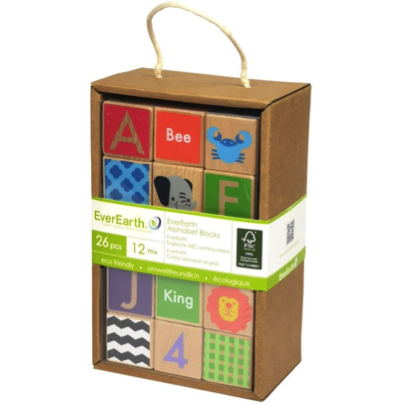 These blocks are perfect for toddlers who want to learn letters, numbers, and colours while having fun at the same time. They're great for children to build models using their imagination, improve fine-mouthed dexterity, develop colour recognition skills, and learn more about shapes and sizes.
2.EverEarth - Large Bamboo Noah's Ark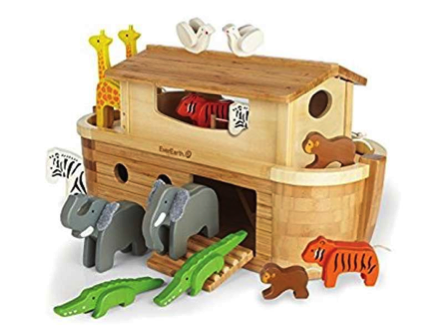 This wonderfully crafted toy features a large bamboo ark with folding ramp and liftable roof panel. Inside is a Noah doll, his wife and ladder, along with 8 pairs of cheerful animals including giraffe, monkeys, tigers, alligators, elephants, doves and zebras. This product is perfect to help children learn how to identify animals and what happens during the flood. It also teaches them biblical stories through a fun interactive format. This toy gets plenty of comments in store when people view the beautiful craftmanship.
3.EverEarth - My First Multi-Play Activity Cube - Pastel - Lifestyle Collection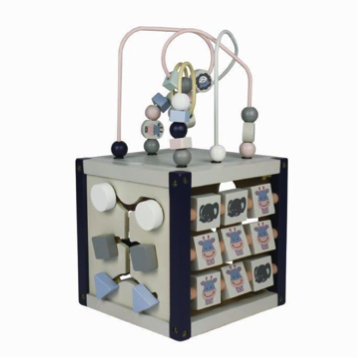 It's a brilliant wooden activity cube featuring a removable and reversible top, a wire beaded framework, a slide out sorting matrix, an abacus, sliding pegs, and a tic tac dot game for children. This cube is perfect for floor play.
4.Grimm's - Building Set Romanesque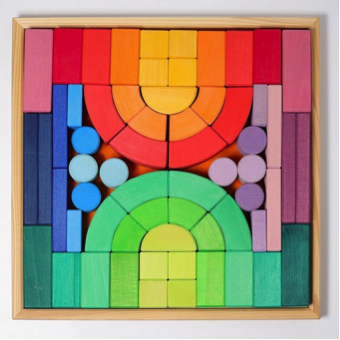 This block is designed for children ages 3+. Children will love creating with this fun toy! Kids can work independently or together to design a castle, church, town wall, or whatever else comes to mind. A great value product for any budding architect, engineer, artist, or builder!
5.Grapat - Treasure Basket 10pc Set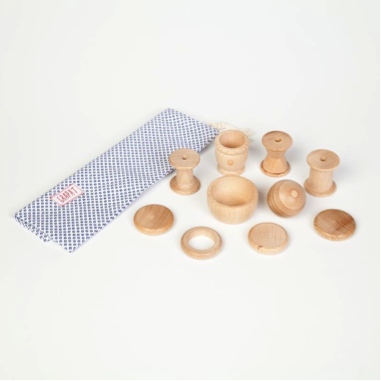 This sensory activity engages kids in active, creative exploration. It's fun to use different materials to add additional layers of exploration. Grapat toys utilise sustainable wood and natural dyeing techniques to ensure they're not toxic or harmful to kids' health. They're handcrafted with natural ingredients including essential oil finishes and vegetable waxes.
6.Grimm's - Building Set Weather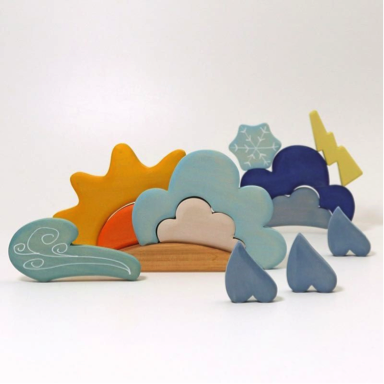 This 13-piece colourful educational set includes blocks to describe all different types of rain, snow, sandstorms and more. They're also perfect for storytelling and can be used with any other product by Grimm's.
7.Grimm's - 60 Natural Geo Blocks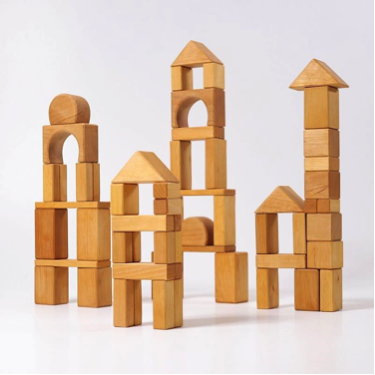 This pack contains 60 wooden blocks in three sizes: 1cm, 2cm and 4cm. Each size includes one piece of each shape to create a variety of unique designs. Designed with children aged 3+ in mind they're great for creative play, imaginative role-playing games and DIY projects. A must-have toy for aspiring builders and architects!
8.Melissa & Doug - Doorbell House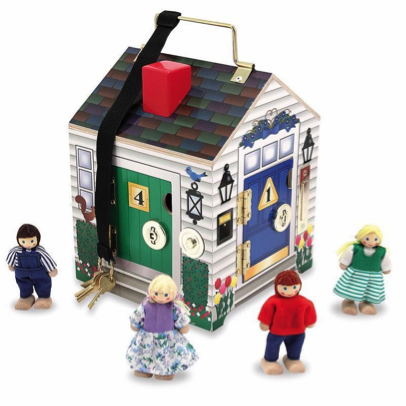 With its four electronic doorbells, four unique lock sets, and four pose-ably movable play figures, this adorable holiday rental comes with everything kids need for an unforgettable stay. Its strong wooden handles allow it to take wherever children go.
9.Melissa & Doug Lock & Latch Board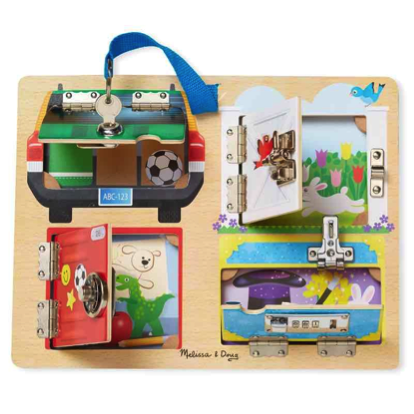 This Melissa & Doug Wooden Board has a variety of different types of locking mechanisms so kids can learn to use them safely and creatively. The board includes a keyed door, bolt door, combination door and a safe door. When each door is locked, children can see a picture on the inside. To unlock the door they need to put their hands on the shape of the image. There are no batteries required. This sturdy wooden board is best enjoyed by toddlers aged 3 years and older.
10.Melissa & Doug Vehicles Sound Puzzle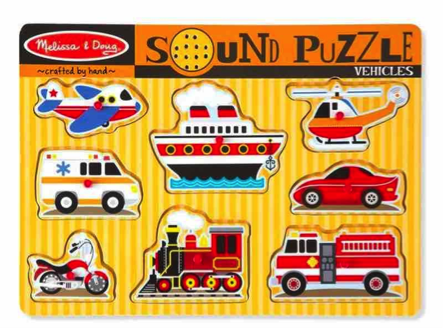 Kids will enjoy listening to trains, boats, and trucks when they play with Melissa & Doug's Vehicles Sound Puzzle. There are 8 different puzzles here, including matching images under each sound so kids can learn together!
When choosing between traditional and modern playthings, it's usually better to go for more natural options which can be passed down through generations. Get the best, sustainable, educational toys in Australia for your kids at Knock On Wood Toys.

You can drop by our Darra (Brisbane) shop or purchase your toys online thanks to help from our website marketing.


Suggested Read: The Best 15 Wondrous Wooden Jigsaw Puzzles for Kids To Help Shape Their Minds