Puzzle pieces provide an excellent way to develop fine motor skills in children from birth to age five. They're also wonderful for developing spatial awareness in older kids and adults. Montessori toys, activities, and puzzles should not be ignored.
Here we will discuss the wonderful benefits of puzzles for toddlers to adults and provide recommendations for Montessori and fun aligned puzzles for children from birth to age six and the grown-ups, too!
Puzzles help children develop their spatial skills and concentration.
It doesn't matter whether it's a two-piece puzzle or a hundred-piece puzzle; the benefits are there. We highly recommend eco-friendly wooden jigsaw puzzle pieces that have vibrant colours yet still align with Montessori principles.
Here are the great benefits of introducing and encouraging puzzles for children and here's evidence that puzzle pieces are an aligned activity:
Fine motor skills – Puzzles come in all different shapes and sizes. Puzzles for young kids typically have knobs for them to grasp. As they grow older, puzzles help to hone those small muscles used in writing and typing. The grasp used for putting together a puzzle helps to train the hand muscles used in holding a pen or pencil.
Spatial awareness - Spatial awareness is the ability to understand and interact within your environment. A great deal of work is done to help children develop their spatial awareness skills. These include things such as playing games, doing puzzles, reading maps, learning about shapes, measuring distances, counting, and identifying patterns.
Develop their confidence - When you complete a challenge, you feel proud of yourself and gain increased self-confidence. This goes the same for children.
Problem solving - This refers to theory formulation and experimentation; theory and practice. Say you've got several puzzle pieces. They have corresponding colours and it seems like they may fit together. This is something your child can work on to make the pieces fit together and solve the whole puzzle.
Be aware of teamwork - A good way for kids to improve their teamwork skills is by playing puzzles. Effective communication is key when working on a puzzle.
Enhances their memory - To find the piece that fits into the puzzle, your child needs to remember which pieces don't fit. This is a perfect way to exercise their memory!
A piece of advice. Don't feel pressured into pushing your children to do something they don't want to do. There's no reason for you to force them to do something if they're just not interested. It isn't an indication of their intellectual ability; it's simply a reflection of whether they enjoy doing things.
However, if you want to improve your child's abilities and concentration, then you must get them the best wooden puzzles to help with their fun and learning.
Here is our list of wooden puzzles that your kids will surely enjoy:
1. Galt - Number Puzzles - Galt - Number Puzzles | Knock On Wood Toys
The Number Sets for Kids set consists of 10 puzzle pieces that help children develop their numerical skills by teaching them basic addition facts, subtracting, comparing numbers (bigger/smaller), and recognizing numbers in different ways. These fun and quirky puzzle pieces are sure to be an instant hit.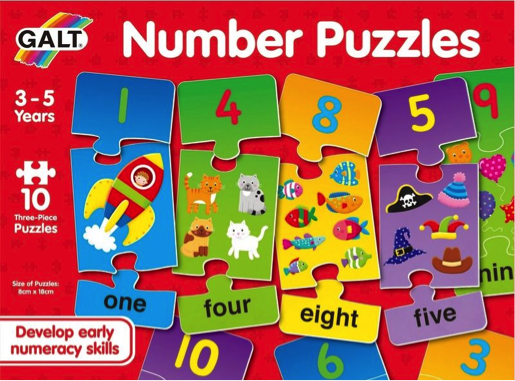 2. Melissa & Doug - Dinosaur Jigsaw Puzzles In A Box - Melissa & Doug Dinosaurs Jigsaw Puzzles in a Box | Melissa & Doug | Jigsaw Puzzle | Melissa & Doug | Dinosaurs Jigsaw Puzzles (knockonwoodtoys.com.au)
Have your child put together all four dinosaur scenes including a T-rex scene, an apatosaurus scene, a stegosaurus scene, and a triceratops scene from a set of jigsaw puzzles by Melissa & Doug. Each puzzle has twelve pieces that fit within each other when assembled. There are also extension activities designed to be used alongside these puzzles.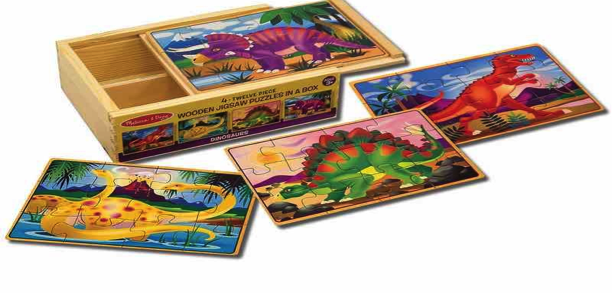 3. Galt - Colour Matching Puzzles - Galt - Colour Matching Puzzles | Knock On Wood Toys
With its colourful puzzles and simple design, these colour matching games will not only help develop children's brains but their dexterity too.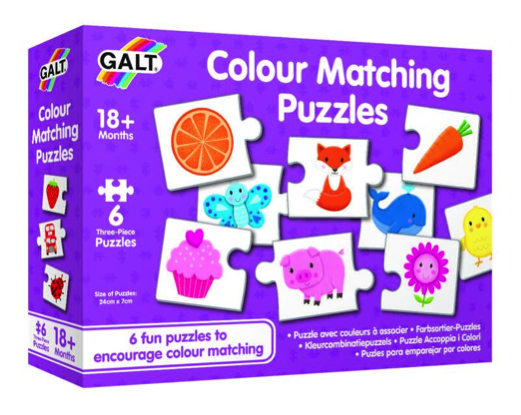 4. Melissa & Doug Self - Correcting Alphabet Letter Puzzles - Melissa & Doug Self - Correct Alphabet Letter Puzzles | Alphabet Wooden Puzzle Cards (knockonwoodtoys.com.au)
If you've been looking for ways to expand your kids' toy collections, then look no further than the Melissa & Doug Self Correcting Alphabet Letter Puzzles. They're educational, they're brightly coloured, and they get kids laughing with fun!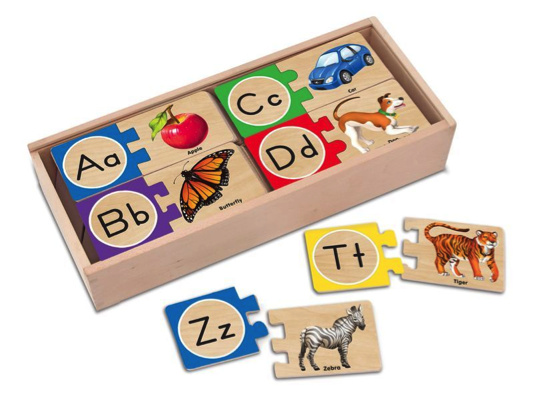 5. Fauna Puzzle - Kangaroo - Fauna Puzzle - Kangaroo | Knock On Wood Toys
This chunky wooden kangaroo puzzle is a delightful toy for kids. This lovely Australian native animal and its joey will come to life as the piece fits into place. Made in Hungary, this wooden jigsaw puzzle will help improve the hand eye coordination of any growing child. Wood is made from sustainably sourced timber and painted with environmentally friendly products. Fauna has an extensive range of wooden puzzles for children including these beautiful animals.
6. Ravensburger Puzzle - Animal Rock! 3x24pc - Ravensburger Puzzle - Animal Rock! 3x24pc | Knock On Wood Toys
These animal puzzle games are great for keeping children engaged and entertained. If they complete three of them, they get to see the animals. And if they put them back together, they can create something completely different.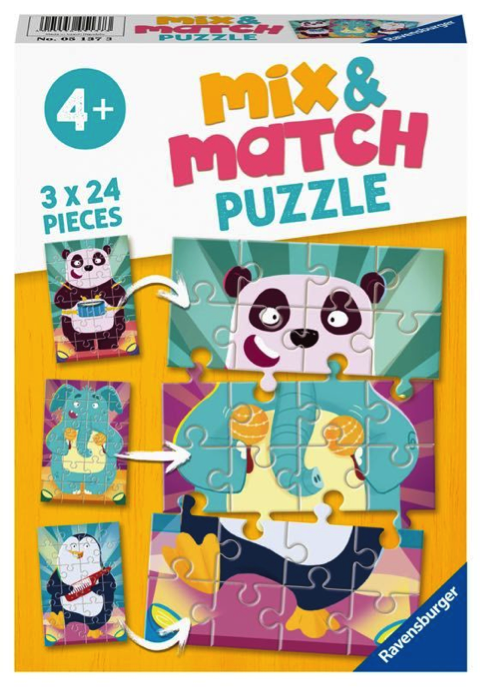 7. Melissa & Doug Self Correcting 1 - 20 Number Puzzles - Melissa & Doug Self Correcting 1 - 20 Number Puzzles| Melissa & Doug | Early Math Concepts | Introduction to Mathematics (knockonwoodtoys.com.au)
Learning is meant to help children learn. With this self-correcting number puzzle from Melissa & Doug, kids can enjoy learning numbers without having to worry about mistakes. This unique 1 - 20 number puzzle features 20 2 piece puzzles that can only be linked with the same number puzzle piece. It provides a introduction to maths concepts and comes complete with detailed extension activities including a Matching Game, Counting Activities, Number Recognition, Add and Subtract, Colour Recognition, Memory Game, Guesstimating, Sorting Activity, Grab Bag Game, Pick The Picture and Story Time.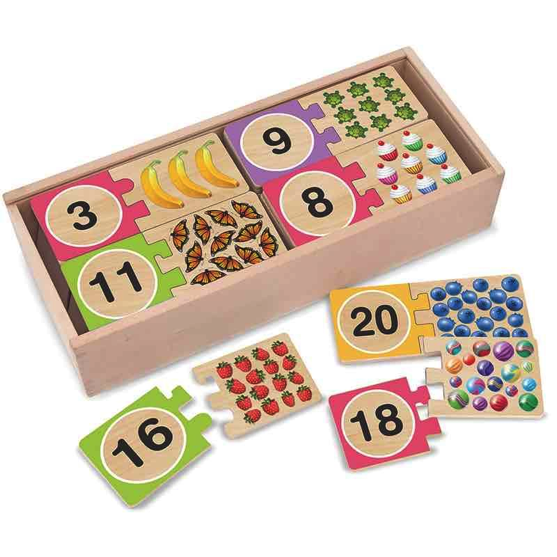 8. EverEarth - Number Puzzle - EverEarth - Number Puzzle | Knock On Wood Toys
This Numbers Puzzle is an excellent classic peg puzzle, designed to support early learning and physical skill development. Children can increase their learning even further by increasing their dexterity through the use of these fun puzzles. These products are made from sustainably managed forests, and everEarth plants one tree for every product sold. They also donate trees to local communities in need!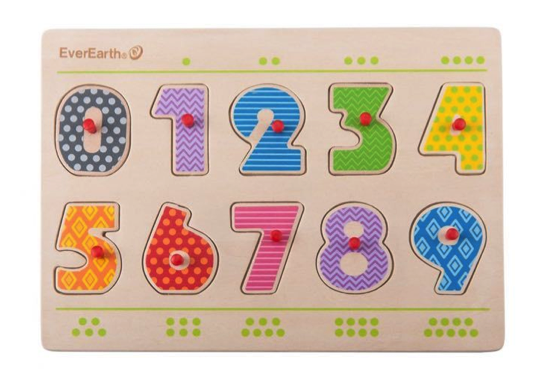 9. Ravensburger Puzzle - Mix-Up Monsters! - 3x24pc - Ravensburger Puzzle - Mix-up Monsters! - 3x24pc | Knock On Wood Toys
Create crazy monsters and interesting images with the fun Mix & Match puzzles! These cute monsters are friendly and easy for kids to play with. They're perfect for creating unique creations. Engaging children in activities that support their cognitive development and improve their skills such as hand- eye coordination with Ravensburger Puzzles will help them develop better.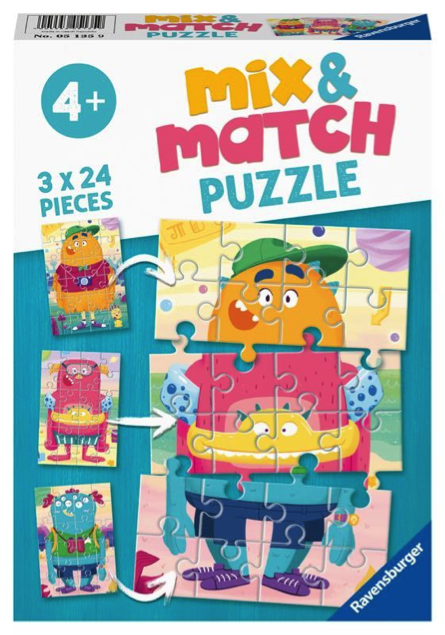 10. ThinkFun Brainteaser - 4-T Puzzle - ThinkFun Brainteaser - 4-T Puzzle | Knock On Wood Toys
Challenge your kids by trying to fit the pieces into the smaller frame. This puzzle has been designed to be fun and engaging, especially for children. It is an excellent way to stimulate their brains and encourage them to learn new things. ThinkFun Games focuses primarily on developing educational games that appeal to kids of all ages, with a special emphasis on teaching science, technology, engineering, art, and maths (STEM).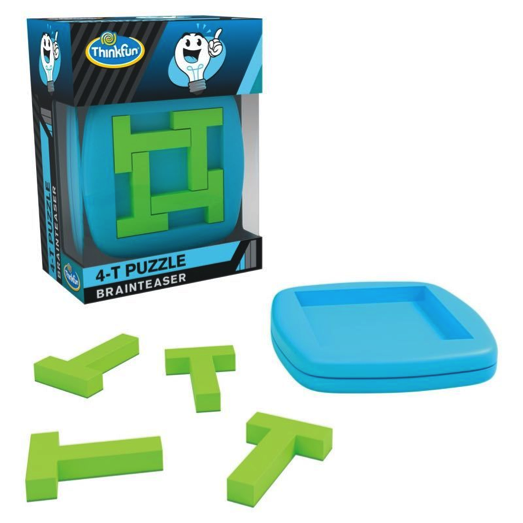 11. QToys - Delicious Apple Puzzle - QToys - Delicious Apple Puzzle | Knock On Wood Toys
The Delicious Apple Puzzle game is an educational toy for developing minds. It encourages children's curiosity and desire for knowledge by providing them with puzzles to solve.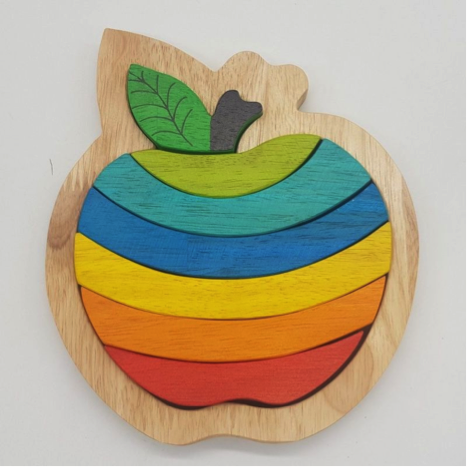 12. Discoveroo - Chunky Puzzle - Animal - Dog - Chunky Puzzle Animal Dog by Discoveroo | Chunky Puzzle | Wooden Puzzle | First Puzzle | Knock On Wood Toys
Discoveroos' Chunky Puzzles are perfect toys for babies who develop their fine motor skills. These four piece dog puzzles will provide hours of entertainment for your child.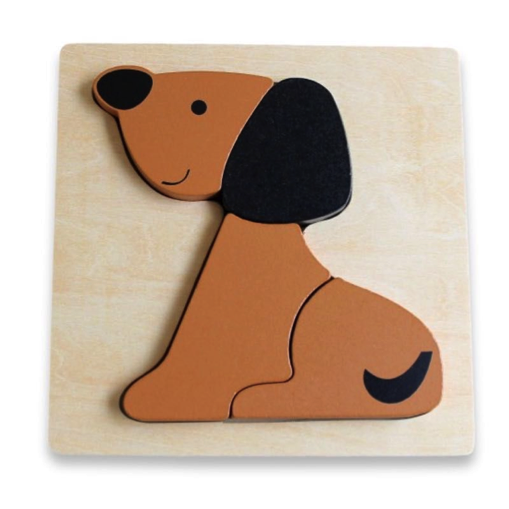 13. Ravensburger Puzzle - Baby Farm Animals - 2x12pc - Ravensburger Puzzle - Baby Farm Animals - 2x12pc | Knock On Wood Toys
The sweet animals have arrived on the farm! Baby Farm Animals 2x6 puzzle features adorable baby animals such as chickens, cows, sheep, pigs, ducks, rabbits, cats, dogs and more. Each animal is represented by two unique images with colourful illustrations to help children learn about each species. The large puzzle measures 30cm x 24cm.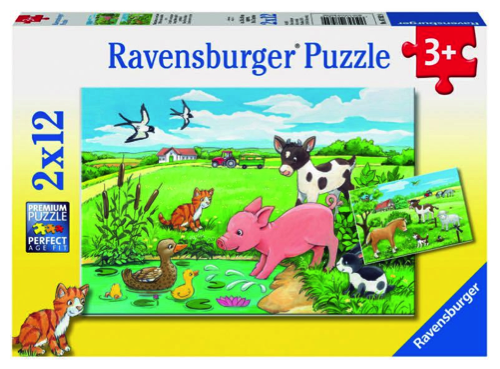 14. HABA - Layer Puzzle Fire - HABA - Layer Puzzle Fire | Knock On Wood Toys
Each of these puzzles has an image printed at different angles on the front, back, top and bottom layers, and when you put them together they create a larger picture. Haba Toys design their products to help children become creative and thoughtful individuals. They're made from sustainable materials and they don't sacrifice durability for style.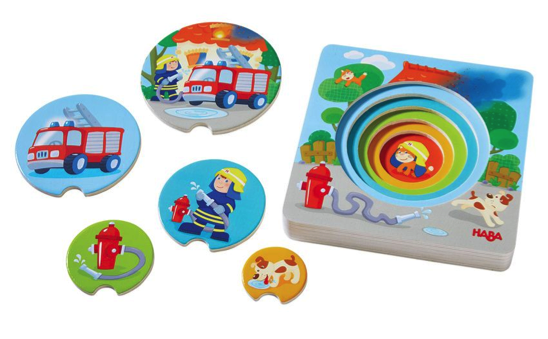 15. Crocodile Creek - Let's Begin 2pc Puzzle - Unicorn - Crocodile Creek - Let's Begin 2pc Puzzle - Unicorn | Knock On Wood Toys
The Let's Begin Unicorn Puzzle Set is a brilliant activity to engage little ones and improve fine motor skills. This amazing set includes ten beautiful unicorn puzzles, all showing something wonderful and fun. Each of these lovely puzzles is printed with sustainable soy based ink on recycled cardboard and each one can easily fit into your pocket or purse. Helping kids learn and grow, these puzzles by Crocodile Creeks are perfect for developing hand eye coordination, dexterity, and much more!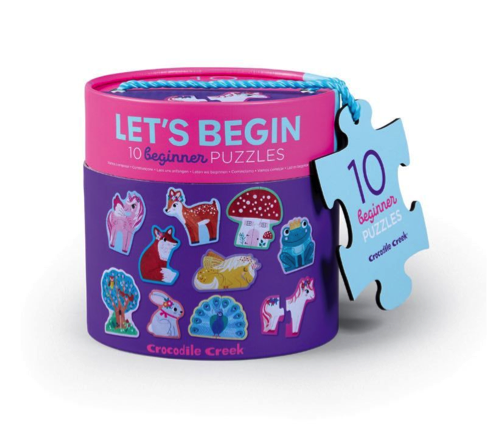 In summing up, wooden puzzles stand as a timeless testament to the charm of simplicity merged with cognitive challenge. In an age inundated with digital distractions, these tactile, earthy puzzles invite both children and adults to slow down, engage, and problem-solve. They not only boost spatial reasoning, fine motor skills, and concentration but also offer an organic, sensory-rich experience. The very nature of wood - warm, sturdy, and eco-friendly - adds an inherent value to these puzzles, making them both sustainable and durable. Whether used in classrooms, homes, or therapy sessions, wooden puzzles provide an enriching blend of entertainment and mental stimulation, proving that sometimes, the most traditional toys offer the most profound learning experiences.
If you often ponder about the perfect present for your young ones, go for playthings that would make him/her happy and memorable forever. Get them the sustainable puzzles online from Knock On Wood Toys. We offer an assortment of colourful and unique puzzles from different known brands, plus they are easy to put together and hold fast once assembled. So if you're wondering how to choose the right present for your loved ones, just go ahead and visit our store Buy Wooden Toys Online | Natural Wooden Toys Australia | Knock On Wood Toys. You can shop online or visit our local store at Sinnamon Park, QLD.