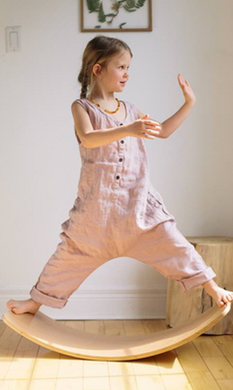 Enjoy Endless Hours of Fun and Development
What is a Wooden Wobbel Board?
Wooden Wobbel boards are a unique and fun way to entertain your kids. This innovative board is designed to rock, spin, and wobble, giving your child endless hours of fun. The board is crafted from sustainable European beech wood, making it sturdy and safe for your little one. The wood is also sanded and treated with natural wax, so that it's extra safe and comfortable for your baby to play on.
Developmental Benefits
Wooden Wobbel boards help to promote healthy balance and movement for your child. This fun and interactive board helps to develop your child's gross motor skills, while also providing a safe and comfortable place to play. The wobble and spin of the board also helps to stimulate your baby's cognitive growth and development, giving them an extra boost in their development.
Fun for All Ages
Wooden Wobbel boards are designed to be used by children of all ages, from babies to toddlers to school-aged children. The board is also versatile and can be used for a variety of activities, from spinning and wobbling to kneeling and standing. Your child will enjoy endless hours of fun playing on the board, while also developing their balance, coordination, and motor skills.
Open-ended and imaginative play is easy with these amazing toys. Wobbel Boards and Kinderboards offer great play time opportunity, with limitless possibilities. Whether it's a race car jump or tunnel, a rocking chair, table, or whatever else can be dreamed up, these wooden toys will be up to the task. The boards are also great for exercise and balance activities and play, ensuring growing bodies can be as strong as possible.Wobbel and Kinderfeetsmake their boards with sustainable European beech wood and other sustainable wood such as bamboo. The original Wobbel sizes are suitable for every age, with XL for older children and adults, and the Wobbel 360 offering a smaller, circular option. Their bamboo and walnut boards are made with FSC beech wood with outer layers of the specified wood. There is the option for boards with an added layer of felt on the bottom in many colours, and painted boards. Kinderfeets offer a range of different colour boards suitable for all ages, including a bamboo plywood board and a chalkboard Kinderboard. All paints and lacquers are child-safe and non toxic to ensure your children have a great toy with no nasty chemicals. Have fun moving and playing with these amazing products.